It's amazing to think that my apps are being used globally to help children with speech and language.  This review came in from a teacher in Japan who is using Sentence Builder in her classrooms to teach english as a 2nd language.  Gaijin Sama writes:
I teach English in Japan and this is one of the great tools that I use for both adult and kid's classes.  It's a fun way to practice simple grammar skills and the kid's just love getting handed "Sensei's iPhone" to "play" with.  By having possible answers on the wheel, it allows the students to work through not only the correct sentences, but also to see some of the common mistakes that they make and realize why they are mistakes.
To find out more about SentenceBuilder and purchase it on iTunes, tap the icon below!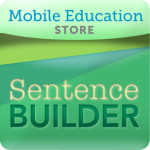 .