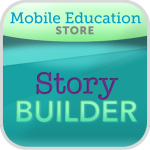 Winner – Best language app of 2012 by Common Sense Media
Winner – Best reading app of 2011 by the Huffington Post
Story Builder is designed to help children accomplish the following goals: 1) Improve paragraph formation; 2) Improve integration of ideas; and 3) Improve higher level abstractions by inference.  Extensive use of audio clips promotes improved auditory processing for special needs children with autism spectrum disorders or sensory processing disorders.  Story Builder offers a rich and fun environment for improving the ability to create a narrative.
Features
Record feature allows students to record narrative in their own voice
3 levels of play
Simple and intuitive interface to record narrative
Recorded answers are stitched together to create complete narrative
50 distinct story lines to create narratives from
Over 500 audio clips of questions to guide narrative
Optional question text and answer introduction reinforcement
For more information, or to purchase a copy,  please visit the iTunes Store..