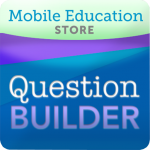 Question Builder is designed to help elementary aged children learn to answer abstract questions and create responses based on inference. Extensive use of audio clips promotes improved auditory processing for special needs children with autism spectrum disorders or sensory processing disorders.  Audio clip reinforcement can be turned on or off for non-special needs children.  Question Builder offers a rich and fun          environment for improving the ability to abstract.
Features
Why, What, Where, How and Random question formats
1200 audio clips of questions and answers
3 levels of abstraction
Optional text and audio reinforcement
Statistics to track student progress
60 encouragement animations and audio clips
For more information, or to purchase a copy,  please visit the iTunes Store..