This has got to be one of the most comprehensive reviews of our SentenceBuilder grammar app I've ever seen.  Jessica Chase is a SLP who has a blog called Consontantly Speaking. She reviews a lot of different language development tools.  Her website is a nice resource.  You should definitely be following her.
Not only does Jessica describe Sentence Builder in a lot of detail, but she also outlines therapy uses for SentenceBuilder that I hadn't even thought of.
She goes further and give a nice list of updates she would like to see.  All great ideas that I will implement on the next update.
To find out more about SentenceBuilder and all of our other speech apps, tap on the icon below!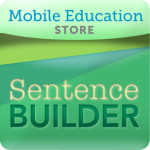 .