The mobile education store is proud to announce that Sentence Builder has been voted the IEAR Best Language Arts application of the year for 2010.  Sentence Builder was chosen over thousands of applications on the iTunes and Android stores.
"We are humbled and honored to be recognized by IEAR for Sentence Builder.  We at the mobile education store strive to create quality applications for parents and educators.  We look forward to continuing this success with the many new application releases we have planned for 2011." says Kyle Tomson, President of the Mobile-Education Store.
Click here for link to the award announcement.
To find out more about SentenceBuilder and buy it on iTunes, tap on the link below!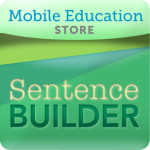 .