Craig Evans is very active in the autism community, and he has recently started a Apps for Autism video series. He interviewed us recently about our ConversationBuilder social skills app.  See the video interview below.
Craig writes:
App developer Kyle Tomson just keeps puttin' out the good stuff! In this interview, he talks about Conversation Builder, the latest App for Autism.

This app functions like the rest of his "Builder" series by providing structure and practice that assists users in understanding and participating in everyday conversations. Conversation Builder helps kids identify and then implement conversations based on cues and hierarchies we use to forming meaningful friendships.
To find out more about ConversationBuilder and purchase it from iTunes, tap on the icon below!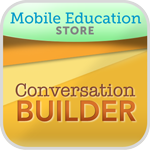 .