I'm really excited to announce that our Rainbow Sentences language and literacy app has been chosen by Kindertown as a  Best Education App. 
Kindertown is very selective when recommending the best educational apps for children. Each app  has been tested and reviewed by educators, parents, and most importantly, children. Very few apps meet their high standards.  They take many factors into account including educational value, ease of use, engagement value, design features, artwork, cost, and shelf life.
Mobile Education Store is proud that they think highly enough of Rainbow Sentences to be included in the very exclusive group of apps they recommend.
To find out more about Rainbow Sentences and purchase it on iTunes, tap on the icon below!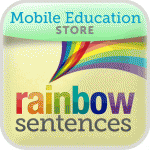 .