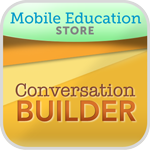 The Mobile Education Store is proud to announce the 5th addition to its Builder education series, ConversationBuilder™ (pat. pend.).  ConversationBuilder™ is iTunes first interactive conversation simulator for children.   Students are taken through conversations step by step and taught when it is appropriate to introduce themselves, ask questions, make observations, and change the subject.  Personal information for each student is used within the conversations to personalize play.
ConversationBuilder™ offers up to 160 distinct conversations over a broad theme base. This allows parents and educators to exercise conversation skills in a variety of social settings. Conversations may be initiated by the student or the student may be asked to respond to another child initiating a conversation with them.  Each conversation has up to 8 exchanges. By going 8 exchanges deep, not only do students learn how to get past the critical first stages of a conversation, but they become familiar with the pattern of conversation, allowing them to more easily apply their knowledge to social settings they encounter during their day.
At it's core, ConversationBuilder™ takes the auditory patten of conversation, which so many children struggle with, and presents it in a visual format, which many children find easier to grasp and master.  Students are guided through a conversation one exchange at a time, and are allowed to record their part of the conversation in their own voice.  At the end of the process, the student's recordings are interlaced with pre-recordings to form a continuous conversation.  Student's will listen to themselves have a conversation with another child in real-time, at the pace that the conversation is supposed to take place at.  As student's advance, they can participate in group conversations that do not follow any pre-determined course.   All conversations can be archived and emailed for later playback and study.
Conversations with peers are the foundation that friendships are built upon and many children struggle with this very important social skill.  ConversationBuilder™ offers a way to teach the art of conversation in an engaging and fun way.
For more information, goto http://mobile-educationstore.com/ipad-apps#conversation
ConversationBuilder™ will be available on iTunes for the iPhone and iPad April 15th.