The mobile-education store is proud to announce a brand new application, Language Builder.  Language Builder has officially been released and is available for sale on the iTunes store.  Follow this link to find LanguageBuilder on Itunes.
Kyle Tomson, the President of Mobile Education Store writes:
"Many of the features of Language Builder are the direct result of feedback from both parents and speech pathologists who use our other applications,   the ability to expand the content of the application is the number one request from parents who use our other applications, and we are excited to bring the much asked for feature to Language Builder.  Language Builder also features the ability to save and email recorded sentences.  The save and email functionality will help SLP's track student progress and give parents a way to share their child's progress with friends and family.  This addition to our lineup will give parents, educators and SLP's a powerful new tool to help their child or client develop sentence formation skills and expressive language. "
Language Builder offers a rich and fun environment for improving sentence ideation and formation, while at the same time improving receptive and expressive language.  It includes a record feature that allows students to record and playback sentences in their own voice, 3 levels of hints, 50 distinct images to create sentences from, optional expansion to 250 images, and 250 audio clips of hints to guide sentence formation.
Tap on the icon below to find out more about LanguageBuilder and purchase it on iTunes.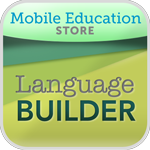 .