Wow – two of Mobile Education Store's speech apps were voted as one of the top ten education apps on iTunes.  ConversationBuilder came in at 7th place to compliment the 9th place that LanguageBuilder just received.  A great honor.  One parent writes this about their experience playing ConversationBuilder with their own son.
When he heard his own voice in a full conversation, he literally shook with excitement. He was mesmorized, enthralled, and eagerly moved to the next picture. Rather than a jumble in his mind, the responses were right there in front of him for him to read and choose from. It was as though a light had gone on in his mind: "Oh! This is how this is supposed to work.
Comments like this are why I create these apps.  To find out more about ConversationBuilder and purchase it, tap the icon below!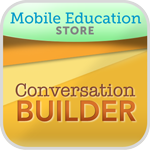 .