I am totally excited about this.  Our ConversationBuilder social modeling app was just named by SmartAppsForKids.com as their editors choice 2nd best educational app for 2011.  The review that SmartAppsForKids did on ConversationBuilder was one of my favorites.  Check out what he wrote at this link.
This is the 3rd award that ConversationBuilder has won for 2011.  It is humbling that so many people like this app and so many children are getting benefit from it.  I want to thank everybody for your kind words throughout the year.
In order to find out more about ConversationBuilder and purchase it on iTunes, tap on the icon below!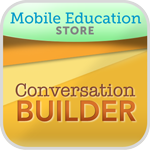 .