This is great interview I just did with Craig Evans of Autism Hangout.  Craig is very active in the autism community and has a blog series "Apps for Autism" where he has highlighted several of Mobile Education Store's language apps.  This time around, we talked about our newest verb app, TenseBuilder.  There is a really nice dynamic between us during the first few minutes of the interview, were we talk about app development in general terms and how to keep making apps better for our kids.
TenseBuilder helps student learn tense by playing movie quality animated videos to demonstrate past, present and future events. 42 video lessons (will expand to 58) are in place to help give students a deeper understanding about the purpose of tense. Special attention is paid to the past tense of irregular verbs.  Students will also identify correct written verb forms and drag them to complete sentences.
To find out more about TenseBuilder and our other language apps, tap on the icon below!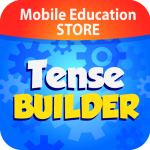 .