This is a recent review on iTunes for our ConversationBuilder conversation simulator app.  It was written by a SLP who uses ConversationBuilder in her practice.  She writes:
ConversationBuilder is an indispensible tool in my speech-language therapy sessions.  It grabs my students' attention like nothing else I have ever tried.  The app allows us to refine the students' clarity and language structure before recording.  To hear the finished conversation, minus the prompting and cues, is a wonderful experience for the children, their parents and myself.  My students are so excited to use this app and ask to do one conversation after the other. Carryover of learned skills has already been witnessed after a couple sessions!
It's great to hear about teachers and students having so much success with my apps.  Tap on the icon below to find out more about ConversationBuilder and purchase it on iTunes!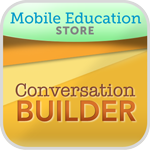 .