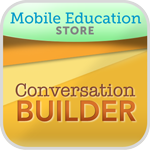 Another great review of Mobile Education Store's ConversationBuilder social skills app by a SLP using it in her practice.  She writes:
Wonderful – I bought this on Sunday and used it right away on Monday with a 4th grade student who has high functioning autism.  The conversational choices are excellent.  The students must discriminate between very subtle differences that are difficult to teach and which can negatively or positively impact a conversation.  The choices offer opportunities to discuss with students what makes one response OK and another one not OK.  Th pictures of real kids doing real activities, and the great kid voices make the conversations so believable and natural.  It's very helpful for the students to hear their own voices as part of a well executed conversation.  This is a must-have app for anyone who wants to help a child with conversational skills!
To find out more about ConversationBuilder and purchase it on iTunes, tap on the icon below!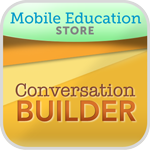 .