Here is another review of our TenseBuilder verb tense app by Jeremy Legaspi.  Jeremy is a SLP in Arizona and he writes reviews of only the language apps and products that he believes make a real difference in therapy.  He is having a drawing for a free copy of TenseBuilder, all you need to do is comment about how you would use TenseBuilder in therapy.  He will randomly choose a winner.  I'm not sure when he is having the drawing, but I can't image it will be very long from now.  Enter today!
TenseBuilder employs movie quality animations to teach tense.  We take the kids through an entire timeline, which gives the students a much deeper understanding of Tense markers and why they are important.  Because we are using video, we are able to tackle the more difficult verbs (do, go, come), that don't have as concrete an action associated with them as other verbs (run, jump, walk).  These verbs can be difficult for many children to fully comprehend, but they become clear with the animations.  Combine that with a lot of humor in the animations themselves, and you have an app that kids want to continue playing and teaches tense in a way not possible with flash cards or worksheets.
TenseBuilder is the newest addition to Mobile Education Store's award winning "Builder Series" of education apps.  MES was named 2011's Educational App Developer of the Year by Teachers With Apps and they have won over 20 app awards over the last three years.
To find out more about TenseBuilder and watch it in action, tap on the icon below!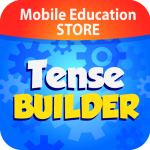 .