Technology in Special Education is rapidly building a reputation for itself as a go-to destination for parents and teachers looking for education apps.  They do a great job of categorizing apps by their function and the best part is that they don't review and post everything, they are very selective with what makes it onto their lists.  The result is that you pretty much can't go wrong with anything they recommend.  As a parent who looks for apps for my own children, I can't tell you enough how helpful this is.
Technology in Education just posted this wonderful review of our TenseBuilder grammar app.  TenseBuilder is designed to teach proper verb form with movie quality animations.  These animations not only engage the kids (they are all funny), but because we are not bound by the laws of physics, we can do some things to help the kids understand the meaning of the verbs.  Verbs like run, walk and jump are easy to understand, there is a definitive action associated with them.  Not so much with verbs like do, go, take and become.  These verbs can be very difficult for all kids to fully grasp, but the animations make things crystal clear for them.
I'm getting a lot of positive feedback on TenseBuilder from educators, parents and SLP's alike.  Tap on the icon below to find out more and watch a video of TenseBuilder in action!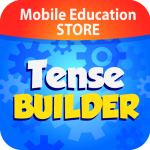 .