This is a the first time this has happened, but hopefully it will become commonplace.  Beth Cheng writes the iGameMom blog.  This is a very nice site that compiles reviews of educational apps and other tips for parents using the iPad for educational purposes.  Beth contacted me because her readers asked her to do a review of our Rainbow Sentences grammar app.   Here is the post.
It's really neat to know that I'm getting well known enough that folks would even know to ask about my apps!  Here's hoping that it continues!
To find out more about Rainbow Sentences and our other speech and language apps, tap on the icon below.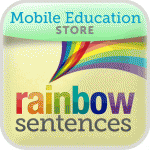 .