We have had quite a few positive reviews for our Rainbow Sentences grammar app, and we are excited to add another one to the list.  This review of our Rainbow Sentences grammar app by Kristin Cummings.  Her blog, Simple Speech, was recently named a top speech pathology blog of 2012.  She has a lot of great information and tips.
Kristen does a good job of giving you a complete overview of each part of the play, along with how her students liked each part.  On top of that, she is having a drawing to give away 2 copies of Rainbow Sentences, so hop on over and register to win!!
Rainbow Sentences  designed to help students create grammatically correct sentences using color coded cues.  I structured it so that the color codes separate the phrases of a sentence (who, what, why, where), rather than by word type.   You can color code both the words and line segments you drag the words to (or not color code them) and you can have the words grouped by phrase (The cat, is walking, etc) or by individual words (The, cat, is, walking).  Student's earn puzzle pieces for getting correct answers and once they complete a puzzle, it comes to life!!  The combination a wide range of play difficultly and high engagement rewards makes Rainbow Sentences a favorite for teachers and students in both mainstream and special needs classrooms.
Rainbow Sentences is a member of Mobile Education Store's award winning "Builder Series" of education apps.  Mobile Education Store has won over 20 app awards and was named Educational App Developer of the Year by two organizations in 2011.
To find out more about Rainbow Sentences and our other speech and language apps, tap on the icon below!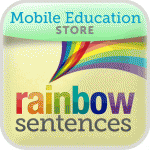 .