Here is a nice review of our Rainbow Sentences Grammar app by LetsTalkSLP.  LetsTalkSLP is run by Brea, a SLP who is dedicated to sharing best ideas/practices with all SLP's.  Her blog has been nominated for a couple of awards.
This is a very thorough review of Rainbow Sentences.  They do a nice job of going through the app step by step to show you how to use use it and explain how to set it up for different levels of play.
They are also doing a giveaway of two promo codes to Rainbow Sentences, so go check it out and sign up!
To find out more about Rainbow Sentences and our other language apps, tap on the icon below!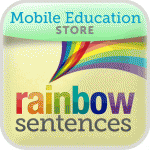 .