This is a really nice reveiw of LanguageBuilder by  Emma Apple of Muslim Friendly Apps.  She goes into detail about how the apps works and her own experience using it with her son.  She writes:
When we first started using the app my son struggled to make appropriate sentences (as expected), he asked questions or spoke to the children in the picture rather than describing what was going on. After several images making use of the hints and with my encouragement, he was able to make appropriate sentences about a few of the pictures. We continue to work with him using this app and I'm confident this will be a valuable learning tool for him the more we use it.
We are always so glad to hear about our apps being used with success to help a child.  To find out more about LanguageBuilder and purchase it on iTunes, tap the icon below!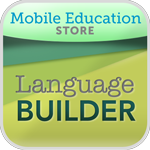 .