Here is a review of our ConversationBuilder social modeling app by SMATOOS, an online news site.  They specialize in articles about the convergence of education and technology.  They give a very favorable review for ConversationBuilder here.  The author writes:
This app will greatly improve your children's ability to read the flow of conversations in a variety of situations. What's more, ConversationBuilder™ supports a group dialogue that makes it flexible for classroom use. The variety of options makes this app open for use at home, school, therapies, hospitals, you name it!

Overall, ConversationBuilder™ is an extremely helpful tool for elementary and preschool students, especially those who have trouble having an organized conversation. I have checked out multiple conversation-related apps, and this one has by far the most effective system and covers a wide variety of situations. What's more, it provides not only the appropriate responses to certain questions but also some bad examples. This helps kids to think again before they speak, which I believe is a great habit to get into.
This review differs from many as the author mentions that they have tried other conversation related apps, and find ours to be the best on the market.  We of course agree!!  To find out more about ConversationBuilder and purchase it on iTunes, tap the icon below!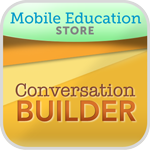 .