Therapy411 is a group of speech language professionals who have taken on the task of wading through the multitude of apps that are targeted towards speech therapy.  They review apps with an eye towards how you would use them in a therapy and the type of client who would most benefit from them.  It is not all strawberries and cream, they point out the cons of the apps as well as the pros.
They have given a favorable review of  our newest app, PrepositionBuilder.  Renana Joy of Therapy411 writes:
PrepositionBuilder is another fantastic app created by Mobile Education Store.  The design of the app is intended to promote the understanding and use of prepositions.

App Benefits/Likes:

Engaging and motivating
Colorful and appealing graphics
Visuals (i.e., pictures) for incorrect responses are provided/shown
Unlocking of individual scenes upon the completion of each preposition set provides an excellent source of reinforcement for students
We thank Therapy411 for their kind words about our newest creation!  To find out more about PrepositionBuilder or purchase it, tap on the icon below to go to iTunes!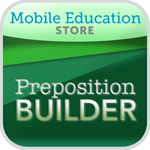 .