Another fan of our ConversationBuilder social skills app.  This SLP writes:
As an SLP, I'm constantly searching for appropriate apps to recommend for my clients and to use in speech/language therapy. The Mobile Education Store apps are some of the best that I have used in the past two years since purchasing my iPhone. This new one is especially pertinent to those with Asperger's Syndrome or anyone who has difficulty with conversational skills. It is easy to use, it has an excellent information page and is most enjoyable for students of all ages. HIGHLY RECOMMENDED!!!
It is nice to hear that SLP's are having so much success with my apps.  To find out more about ConversationBuilder and purchase it on iTunes, tap the icon below!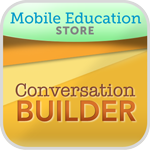 .