Diana Zimmerman is a speech path who uses the iPad extensively with her students.  She has kind words for our LanguageBuilder speech app.  She writes:
This is a great app for a variety of students. Students love to record the sentences and play them back.  It's amazing to watch their self-confidence soar as they listen to themselves!  This is great for syntax goals (verb tenses, pronouns, copulary/auxiliary verb forms lke is, are, has, have, does, do) and for vocabulary development.  I will also use this app for articulation kids who are at the conversation and self-correcting level.  I think it could be used for language samples and narrative language as well. I love using real photographs as stimulus items.  This developer has created some great apps!  I use this stuff on a regular basis for my K-2 population.
To find out more about LanguageBuilder and purchase it on iTunes, tap the icon below!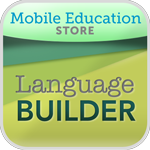 .