This review was done by a parent who is using our ConversationBuilder social skills app with his son.   He writes:
When he heard his own voice in a full conversation, he literally shook with excitement. He was mesmorized, enthralled, and eagerly moved to the next picture. Rather than a jumble in his mind, the responses were right there in front of him for him to read and choose from. It was as though a light had gone on in his mind: "Oh! This is how this is supposed to work."

I'm not a teacher or speech pathologist or an expert in autism by any stretch of the imagination, but I do know my son and I know when the light goes on. So, you tell me…how do I put a rating on an app that provides my autistic son with an opportunity to practice his coversation skills in a manner he feels so comfortable with (alone and on the iPad) that he loves to do it?
This review is flat inspirational.  I recommend you read it all the way through.
To find out more about and purchase ConversationBuilder, click on the icon below!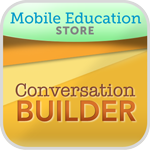 .