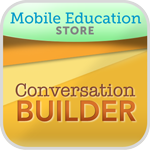 Nice Review of ConversationBuilder social skills app by a SLP.
Diana Zimmerman – MS CCC-SLP writes:
This app is the best one yet!  I have used it with a few students with ASD along with students with language impairments.  I used it mostly with grades 1-2, but also tried it with some high school students.  The high school students liked it just as much as the little ones did! This app is helpful for many of my students and THEY LOVE USING THE APP!  They love to listen to their own voices.  Even more, they love that someone is having a conversation with them! One student said "is that real?"  I love all the different photo themes.  I find this app helpful for general vocabulary as well as conversation skills.  I even find it useful for my students with articulation impairments who are working on sentence production.  the different levels are helpful.  some students need the multiple choices of level one.  Other students are ready for open-ended conversation turns.  Is it so interesting to compare the responses of my students with ASD to students who do not have difficulty with conversation.  I will definitely be using this app often!
To find out more about ConversationBuilder or purchase it on iTunes, tap on the link below!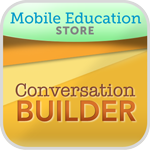 .